November 11, 2007 on 10:37 pm | In
R.O.D.
|
3 Comments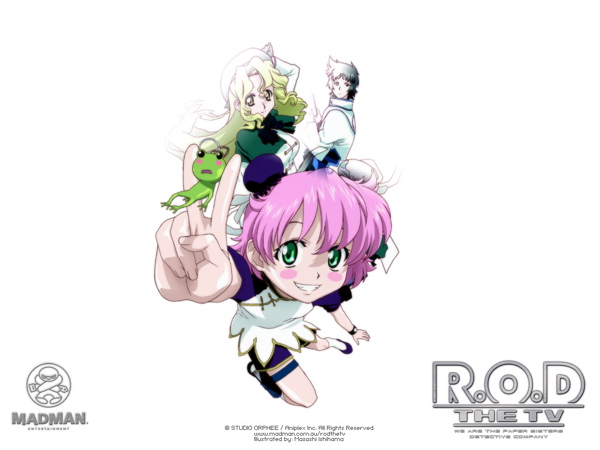 It's a series about people who can manipulate paper! Is it action? Is it comedy? Is it slice of life? Is it a pleasant show about a school girl and her blossoming friendships? Is it a show packed full of barely repressed (female) homoerotic undertones?
Why, I believe it's all of the above! Although perhaps not all at once?
Apparently the R.O.D. OVA isn't quite highbrow enough for certain anime connoisseurs. I like to think of them as "weekend warriors", who treat anime like a wine and cheese tasting: if the bouquet isn't fruity enough, then why bother swallowing when you can spit it out in disgust?
The original OVA was a long held favourite of mine, because it was a fun action story that also invested a lot of stock in the relationship between the two leads, who throbbed with that special "female friendship" that you only get in anime. I really don't see how you can fault it, although I admittedly have not watched it since 2003. I don't care where you're from, an incontinent, nuke happy President of the United States is funny.
So that brings us to R.O.D. The TV. Where's Yomiko, you say? Where is the British Library, the "Last Literary Defence Line of the UK"? All will be answered in time: funky awesome time.
Powered by WordPress with Pool theme design by Borja Fernandez.
Entries and comments feeds. Valid XHTML and CSS. ^Top^