May 19, 2007 on 12:58 am | In
Studio Ghibli
,
Tales From Earthsea
|
1 Comment
"It's all right; they have wings."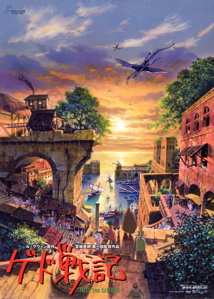 Going into a movie expecting the worst can sometimes turn out in one's favour: when a movie is not, in fact, terrible and can perhaps even be termed "entertaining", this is a victory. Tales From Earthsea is one such movie.
The problem with being made by Ghibli is that a certain standard of excellence is expected. The problem with being made by Miyazaki Goro is that the film is forced to live in his father's shadow. For my money, I enjoyed this movie infinitely more than I did Howl's Moving Castle.
Tales from Earthsea probably sucks as an Earthsea movie – consultation with my mother reveals that an enormous amount of this movie makes no sense from an adaptation perspective, and Ursula K. Le Guin agrees with this – but otherwise it's a perfectly engaging, albeit generic, Ghibli fantasy film.
Prince Arren kills his father, steals his sword and runs away. The Archmage Sparrowhawk finds him in the wild, and they begin to travel together. Arren comes between Sparrowhawk and the incredibly effeminate villainous wizard Cob, and several other characters become embroiled in a war of vanity, including humans who are actually supposed to be dragons in their literary incarnations.
I'll admit that I'm somewhat out of practice when it comes to anime movies; the last one that I saw was a New Year's repeat of Innocence, and even then I was unprepared for the speeches of morality given by the characters in this movie. The themes of Tales from Earthsea become obvious not through the characters' actions, but rather from their words. In the main face off between Sparrowhawk and Cob, they discuss morality, repentance and revenge as Cob walks down countless stairs. On a long shot, I counted these stairs that took Cob in excess of a minute to walk down: they numbered approximately twenty.
Arren learns the important lessons of how he should act and what should guide him through similar pep-talks with Sparrowhawk, but this still does not quite explain the dual nature of his character. If you're looking for motivation in this movie, you're not going to find it far beyond black and white and doubt giving way to optimism. This is all most movies need, and it works well enough here as the story is sensical enough to carry the majority of each characters' actions.
The style of Miyazaki's direction is quite self-conscious, cutting away from shots moments before they become irredeemably terrible. When Arren decides to join Sparrowhawk, the Archmage's face almost gets bathed in the golden light of the rising sun. Similarly, there is just about an incredibly literal discussion of the light and dark sides of people as a cloud passes over the moon. A lot of it feels like a cinematic anime playbook, consulted for comfort and familiarity. For the most part it works; the thing about Ghibli films (save Takahata's) is that everyone of them, save those of Takahata, is undeniably Ghibli. It's difficult to mess up the Ghibli aesthetic and the young Miyazaki has failed entirely to do so. It was somewhat disappointing to see retreads of Laputa's Musca and Mononoke's Jiko among the cast, but the remainder of the movie is decidedly pretty to look at.
I realise that this still makes it seem that Tales from Earthsea is not a good movie. It's certainly not a great movie, and features unintentional hilarity in the form of an inconsistent low-speed chase sequence, but it certainly gets the job done. I personally think that Ghibli should concentrate more on original work rather than adaptations, considering that I personally rank Kiki's Delivery Service, Howl's Moving Castle and Tales from Earthsea among their less successful works – but if we followed my advice there would have been no Grave of the Fireflies, Only Yesterday or Whisper of the Heart.
If you crave only excellence in films, then Tales from Earthsea is not going to be for you. I won't say that I look for mediocrity, but it is a characteristic necessary for excellence to exist. Tales from Earthsea is neither mediocre nor excellent: it is a decent fantasy film that will make no waves. That said, expect me to come back in an incandescent rage after having read the books.
1 Comment
Read the first book, A Wizard of Earthsea, because it is one of the best fantasies ever written and is short. The rest of the series is…ordinary. OK, but ordinary.

From your description, no, the movie has nothing to do with Le Guin's stories, not any of them.

Judging a non-adaptation like this by comparing it with the "original" is what I call the "Title Stolen From…." fallacy. Don't get mad; it's not worth it.

Someday, movie and miniseries makers will realize that stealing names and titles from existing works is a bad idea because it means your story will not be judged on its own merits, but only on how well it translated the source–and if names and titles are all you used, it will be judged as stupid and bad.
Sorry, the comment form is closed at this time.
Powered by WordPress with Pool theme design by Borja Fernandez.
Entries and comments feeds. Valid XHTML and CSS. ^Top^