April 13, 2008 on 8:19 pm | In
Princess Tutu
|
8 Comments
"Happiness is only a couple of lines at the end."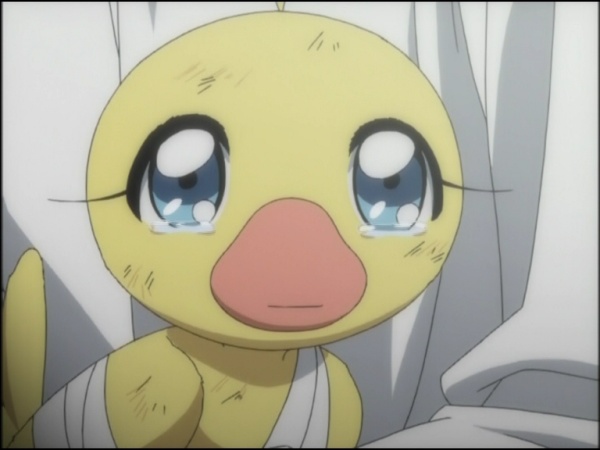 It's really difficult to imagine it being possible, but "Chapter of the Fledgling" was approximately one billion times better than "Chapter of the Egg". Princess Tutu speaks volumes about the strength of 26 episode series made up of two thirteen episode series: they tell two stories while telling one, and they have a pace to match that. Naturally in a thirteen episode series you've got less time to waste, or to go on tangents, which is why a good thirteen episode series can be so rewarding. So, strangely enough, take that idea and double it and you've got something insanely tight, and the second half doesn't need to bother going to the effort of set up and can just rock your face off right from the start.
Princess Tutu: Chapter of the Fledgling, ends up rocking faces around the world clean off. You won't even miss your face when it's gone, it's just that good.
The second half of Princess Tutu begins where the first ends, which would make you think there would be no conflict, right? This is entirely the wrong tack to take: Mytho's heart is not completely restored, and the Raven has had some bastardly schemes in hand.
The first half of the show had to spend time introducing its characters and shrouding them in vagaries so that it was difficult to tell whether they were villainous or helpful beings. Here the characters are well established and can continue their astoundingly well developed arcs (I'm not exactly talking about Mr. Cat here): the true stars of the series turn out to be Rue and Fakir, who caused such consternation at the start and ultimately prove to be the most interesting of them all. That's not to cut Duck short shrift, but she's mostly unwavering in her determination. Her own emotions evolve, but that's only a reflection of the changes that manifest in Fakir, Rue and even Mytho. The only stumbling block for characters is Mytho, who is inexplicably loved by everyone – but he gets let off the hook on account of being the Prince of Legend. It really should not surprise me that a magical girl show can turn out to be an excellent character study, but periodically you need a series packed with vitality like this to remind you.
The whole thing becomes more and more meta as it progresses, and this becomes clearer with the introduction of half length episodes. I personally think that watching half an episode on a weeklong episode would not work but the only effect it has on the stitched together episodes is that you get double the amount of Drosselmeyer saying "Take that, Princess Chuchu!". Even the previews for the B parts of the episode are simple matters of "will it be a happy story, or a sad story?" it's not exactly helpful, but this is more of a curio than anything else.
It should probably be noted that Drosselmeyer and the Book Stoppers harbour different designs to everyone else in the show, probably because while they're a part of the story they exist separately from it. They are the fourth wall breakers (and somehow before the end the show manages to break a fifth wall – the glass ceiling perhaps), and Drosselmeyer actually looks really good when they go to the effort of animating him doing anything more than standing around and laughing. Because the whole series is about story telling, one can examine the potentially sadistic behaviour of an author and why he would want to do that. In fact, so many clauses are invoked over the course of the series that the head spins.
The last episode is full of the sort of excitement that you normally get in more action packed series filled with turnabouts, sacrifices and high stakes. In a way, the stakes are incredibly high, but the lack of explosions accompanying them is a little offputting. This is not a bad thing, it's just yet another example of narrative expectation being trumped by a morass of awesome.
The moments leading up to the grand finale are truly emotional that the inevitable epilogue can only feel strange by comparison. I'm not quite sure what I think of the ending, but it is more pragmatic than it is idyllic. I probably like it overall, but one can't help but feel it's a little bittersweet.
There's an important moral to Princess Tutu: never think that you can't do something. So never think that you can't watch Princess Tutu and your world will be turned on its head.
Warning: Comments contain spoilers!
8 Comments
Sorry, the comment form is closed at this time.
Powered by WordPress with Pool theme design by Borja Fernandez.
Entries and comments feeds. Valid XHTML and CSS. ^Top^